The late 1980s saw the launch of two new brands on the Australian market. Both were offering small economical hatchbacks at an attractive price. One of these brands would evolve into a major force on the Australian market and indeed the world, the other would proove to the world why cheap is not always a good thing. The successful one was the Hyundai Excel, the other was the ill-fated Lada Samara.
The two brands launched themselves in Australia in 1988. Both were promising cheap but effective cars which at the time was appealing to many people as new car prices were getting higher and higher. Lada launched its small car, the Samara and marketed it as the car that had "taken Europe by storm" which to be entirely honest, was a vivid stretch of somebodys imagination. However the Lada had the backing of a very well known and successful Australian, who became the public face of Lada. That man was Peter Brock. It was Brocks involvement which could probably explain why so many people were sucked into buying one of these Russian built attrocities. Brock was a trusted and well respected identity, and is Brock said it was good, most people believed that it must have been good. However they would soon find that even Peter Perfect had bad judgement occasionally, and his decision to endorse the Lada brand would surely go down as possibly the biggest low in his illustrious motoring career.
If ever there was a sign that the Lada Samara was a less then impressive product, it was at the very start of the importing process. The Lada Samara had to be stripped down and rebuilt in Australia before being sent to showroom, to make them acceptable under Australian standards. Approximately $2000 per car had to be spent to bring them up to the required standard, with approximately 60 changes needed to bring about this result. And that was before Quality Control issues were even considered. At first glance the woeful nature of this car was blatantly obvious. Colour matching between panels was appalling, to a level which would leave any half decent panel beater red faced and shamed for life. The car squeaked and rattled from every concievable angle and the dashboard actually crumbled before the drivers very eyes. Mirrors fell off, the cheap plastics used for grilles and bumpers warped, cracked or fell off entirely. And soon Peter Brock was battling to save his reputation as the stories of the Ladas distasterous entry into Australia swept the nation. It was at the Brock Organization, once known as HDT, where the Ladas were being modified for Australian conditions, and then released to showrooms. HDT had for several years been Brocks successful business where Commodores were modified. HDT did its business under the slogan "We Build Excitement" and was responsible for the now classic Brock Commodores. Yet it didnt take long for Brock to become a laughing stock after the Lada troubles emerged, and the joke was the Brock should change the company slogan to "We Build Exrement" which surely would not have amused an already red faced Brock.
Only months after taking Lada on, Brock sold out his interest, and then went about trying to put this embarrasing phase in his life behind him. Ladas were still being sold for a little while after Brock parted ways, and an attempt to rename the Samara to the 1300 and then Volante failed to bring any buyers. It seemed that the damage had well and truly been done. Not long after that Lada died a very painful death in Australia and was never heard of again. One company that was certainly laughing all the way to the bank at this time was Hyundai from Korea. Although the newly launched Excel was no example of motoring brilliance, it did proove to be a reliable yet basic car. It was also sold at a shade over $11,000 at the time, and attracted many buyers who were looking for a basic runaround to use, often as a second car. It was the first step of many which would see Hyundai evolve into a major player on the Australian car market. Hyundai has also made many changes to its manufacturing processes and quality control, and new Hyundais now are generally regarded as very good quality vehicles, and is leading the Korean charge to be the next "Japan" in relation to its growing car industry.
How Did Peter Brock Come To Be Involved In Such A Disaster???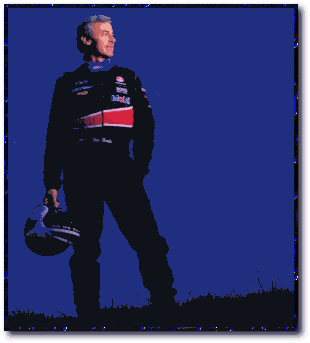 Peter Brock of course is an Australian Motor Racing Legend. His achievements on the track and his committment to road safety and charity off the track are all outstanding attributes which have cemented Brocks name as a hero. However there was a time when things werent so glossy in the world of Peter Brock, and this started with his involvement with a product known as an Energy Polarizer. Brock claimed that the Polarizer "would cause all molecules in its sphere of influence to be aligned or polarized" which would result in cars being quieter. It would also apparently result in enhanced performance of the powertrain, power steering and suspension set ups. Brock wanted one fitted to each and every Brock modified Commodore. However Holden was not so sure about this new product. It was alledged that Holden was barred from seeing the product or even testing it, a situation which led to Holden refusing to back the product. This in turn led to a very public and very bitter stoush between Brock and Holden which eventually led to the two parting ways. Brock fans followed the belief that Holden had set out to destroy Brocks reputation which simply wasnt true. Any damage to Brocks reputation unfortunatly had been done by the man himself. The Polarizer soon disappeared, mainly because it didnt work, and with his very public divorce with Holden now settled Brock had a bit of spare time on his hands. It was here that Peter Brock and his HDT company, now known as The Brock Organization was on the look out for a new product to market to Australian car buyers. Unfortunatly they found Lada. And the result was another disaster for Brock, as the Lada vehicles soon prooved to be anything but impressive. During this period, many believed that Brock was in bad shape not only professionally, but also mentally. Some had even dismissed Peter Brock as having gone nuts. On the race track Peter Brock had been flirting with Ford, racing a Sierra in the Touring Car Championships, and then BMWs. At one point he even drove a Volvo on the track. However much to the delight of Brocks legion of fans, Holden and Brock had kissed and made up during the 1990s, and Brock once again became a dominating force in motor racing. Yet the Polarizer and Lada days were times Brock was more than happy to leave right where they belonged......in the past.