Part 4 includes more Buslink photos.
Buslink 141, m/o 2183, a 1993 Mercedes Benz OH1418/Volgren, seen leaving from Palmerston back to Humpty Doo.
Buslink 418, m/o 2645, a 2005 MAN 15.220/Volgren CR228L, leaving from Palmerston after completing a School Special.
Buslink 74, m/o 706, a 1990 Isuzu LTI-11P/PMC160 heading along Berrimah Road to commence a school special.
Buslink 118, m/o 2760, a 2004 Mercedes OH1728/Volgren SC222 departing the depot for an afternoon school special.
A Buslink Low Floor awaits passengers at Palmerton Interchange.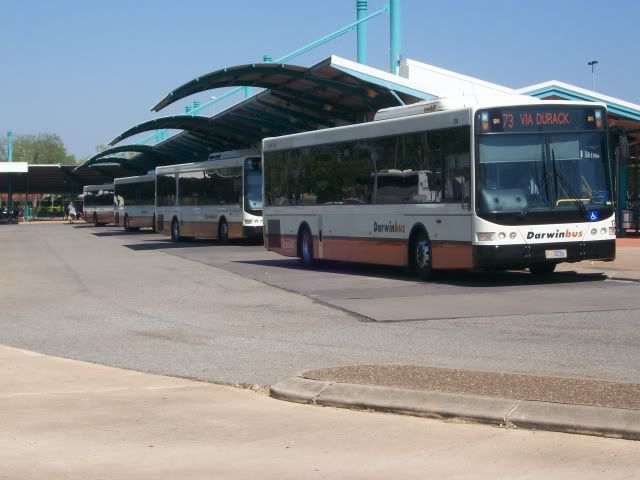 Buslink 150- m/o2738, a 2004 Mercedes Benz 0500LE/Volgren CR228L at Darwin Bus Interchange.
Buslink 147, m/o1171, a Mercedes Benz/ Volgren departing from Palmerston. Somehow, this bus still shows it's desto roll
where many of it's cousins have the "School Bus" Sticker over the desto box.
Buslink 70, m/o 2766, a 1992 Mercedes OH1418/PMCA160 "Commuter" seen leaving Berrimah Depot. This was the only bus
I had seen to be in the older Buslink livery.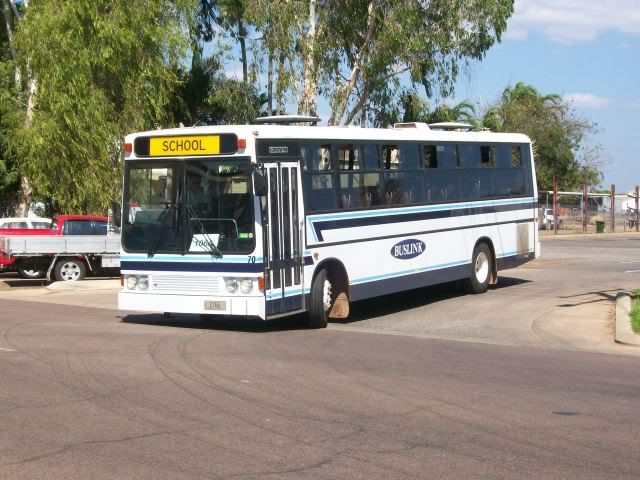 Buslink 300, m/o 2399. A Denning mono.. Not listed on the Fleetlists.