Today, CountryLink Travel Centre in Kingston held their open day to celebrate the refurbishment of the travel centre and the station (it looked the same to me). This included a jumping castle, sausage sizzle, free kids packs and a free train fride from Canberra to Queanbeyan on a refurbished XPL train.
It was a massive day with 'Talking Canberra 1206 2CC' broadcasting live from the station, Raiders players at the station conducting a meet and greet and discount rail fares on offer from Canberra to Sydney ($30 return to Sydney, $50 return to Melbourne, what a bargain! These tickets were sold out by midday). By the end of the day, it was concluded that approx. 6000 people passed through the Station.
I was most interested in the free train ride between Canberra and Queanbeyan, as this presented a great opportunity to get a few photos of the train. Unfortunately, I didn't get a ride on it, but, I got a few photos instead, which can be found below;
CountryLink XPL set lead by 2503 is seen heading for Canberra about to pass under the Newcastle St bridge.
CountryLink XPL set lead by 2503 seen bound for Queanbeyan, just passed the Railway St overpass in Oaks Estate.
CountryLink XPL set seen passing through the industrial suburb of Fyshwick bound for Queanbeyan, about to go under Newcastle St - I had to sharpen this photo up a bit, came out blurry originally
Back at the Kingston Travel Centre;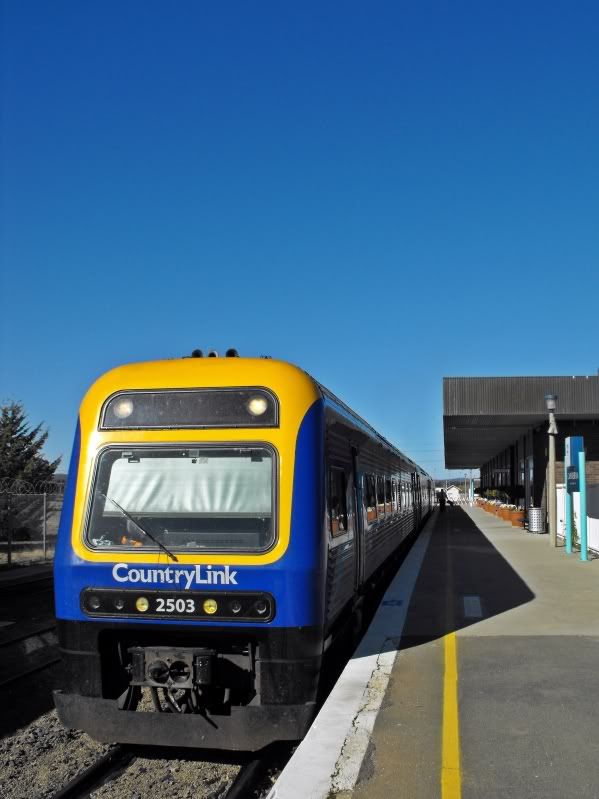 CountryLink XPL 2503 seen back at the station at the end of the day. From here, the train will travel to Goulburn, where another CountryLink open day will be held. Free train rides avaliable between Goulburn and Joppa Junction if anyone's interested!
This appeared to be the only refurbished part of the Railway Station, oh, wait, I mean Travel Centre.
Thanks for viewing these photos, as usual, comments are more than welcome, both negative and positive!