Please mind the title, just an attempted fancy way of saying 'Recent Canberra shots'.
But before we get into the photos, just a big thank you to all of the people who commented in my last photo thread, namely "Darren H", "Andrew", "Ryan", "T1200" and "UQB003" as well as anyone else, thanks so much for your kind words.
Now, the photos;
Irisbus Agoraline 313 with a Custom Coaches CB60 body is seen here operating a 312 to Spence. 312s have only been travelling down that section of road since the Belconnen 'Improvements' were implemented a few months ago.
Renault PR100.3a 126 with an Austral Denning body is seen travelling down Lathlain St with a 2 year temporary bus station in the background. This inadequate infrastructure has caused many people to refrain from travelling on the bus, as it is simply inadequate to replace a bus Interchange with 3 on street platforms with a single AdShel on each.
320, a Scania L94UB CNG bus with a Custon Coaches CB60 body is photographed travelling down Marcus Clarke St in the CBD of Canberra. The construction in the background is the new DEEWR (Department for Education, the Environment and Water Resources IIRC) building, expected for completion soon.
Here, we see ACTIONs oldest rigid bus, and a bus that is usually used for driver training, but is being used on the road most likely due to a bus shortage. 752 is a Renault 100.2 MkI with an Ansair body, and is entering what was the entrance road to the now closed Belconnen Interchange.
BUS-376 is a MAN 18.310 powered by CNG. It has a Custom Coaches CB60 Evo II body, and is passing a newly built AdShel, which is no longer serviced due to the Belconnen 'Improvements'.
Renault 100.3a, BUS-113 with an Austral Denning body is seen on the same stretch of road. This bus had a short stint in Brisbane under the alias of 997.
Irisbus Agoraline 311 with a Custom Coaches CB60 body and trial LED desto is seen operating a 312 on Lathlain St.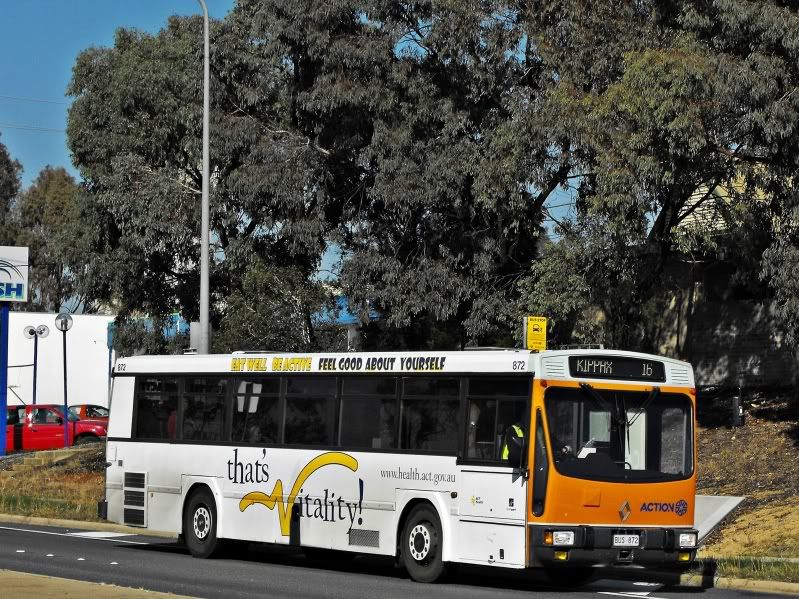 Renault 100.2 MkII 872 is seen sporting an AOA for the ACT Government to be active.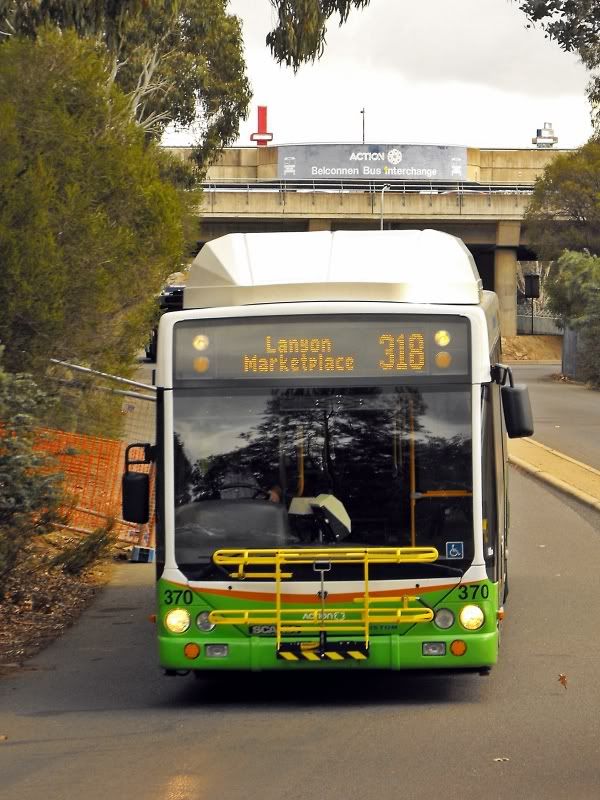 A sight that will never be seen again, a Scania L94UB CNG with a Custom Coaches CB60 body is seen exiting the Belconnen bus Interchange on a bus dedicated road. In the future, this road will be opened up to general traffic and at the site of the Belconnen Bus Interchange; a few AdShels will stand. Not a fitting replacement at all.
To finish off, another AOA bus, this time, 880, a Renault PR100.2 MkII with an Ansair body advertising 'iiNet'.
That does it for now, thanks for taking a look, and as per normal, commenta are very welcome! Thanks all, have a good night